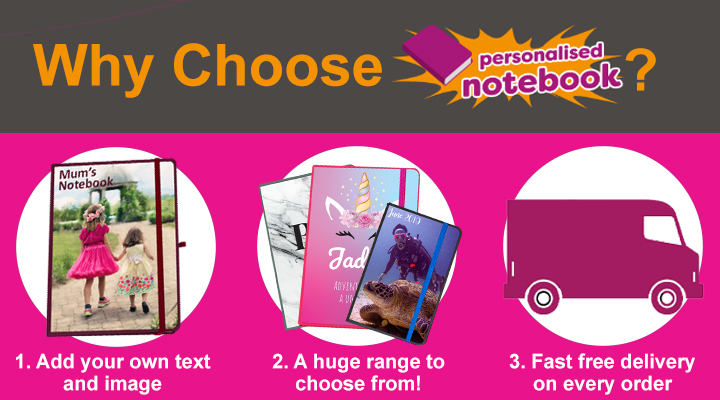 What gift do you get someone who has everything? A Personalised Notebook of course! They are the perfect birthday or Christmas present for anyone who works in an office, school or needs to constantly take notes! Or why not treat yourself?
Why Personalised Notebook?
Here at Personalised Notebook, it isn't one style to fit all, we currently have 4 different designs for you to choose from. All of which differ in size, colour and style so that you can choose the perfect notebook for your needs. So, whether it's a colourful A5 notebook for work or a plain A6 notebook as a gift for your friend, we have you covered!
The main reason our notebooks differ to others that can be personalised is that you can add your own images to the cover of the book. Allowing you to create a notebook that is truly unique and unlike any other.
Our easy to use online designer allows you to personalise your own notebooks with ease. Meaning you can choose a font, text size, image position and even view your design live as it changes before you purchase it. So, instead of having standard layouts that you have to use, everything is created by you.
What use is a notebook without a pen? It would be useless, which is why we can also personalise a range of pen designs with your own text that will perfectly match your notebook. And with our personalised pens starting from only £2.50, they are the perfect accessory!
No matter which product you choose, or your order total, you will receive free delivery and because our offices are within the UK and everything is printed in house, you will receive your powerbank within 3 businesses days.
So, what are you waiting for? Start creating your very own Personalised Notebook today!