It's been a strange year and a half for us all. But with lockdown restrictions now ending, are you making your way back into the office after homeworking? If you are going back to work in an office setting, then we understand how hard it can be to keep a track of your pen. Or ensure that your notebook is not left lying around. And this is where Personalised Notebooks For Work can help!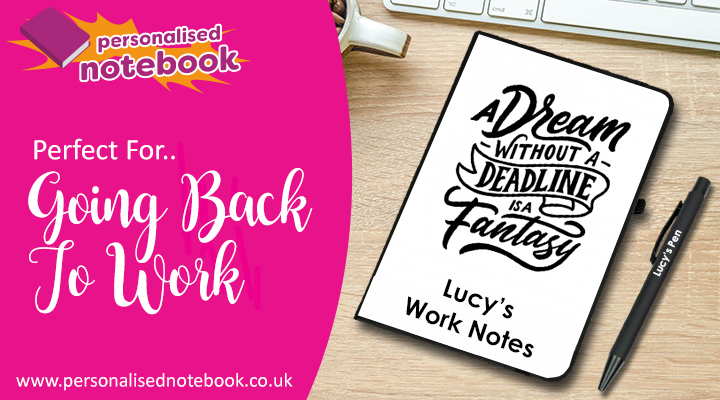 You can also add an image or picture to our personalised notebooks. So why not add a past holiday snap to remind you of better times. Or an inspirational quote to get you through the day. No matter what you design, there is one thing that is for sure, no one will mistake your notebook and pen for theirs.
If you don't wish to use one of your own photos, then don't worry. We also have some ready-made designs that you can personalise with your own message or name of your choice. Ensuring that there is no mix up when it comes to stationary and that yourself and those around you are safe.
We will deliver all of the products that you find on our website for free. So, there are no hidden costs and the price you see is the price you pay. We will ao get these to you within 3-5 working days. Meaning even if you have left purchasing a present to the last minute, our notebooks will be with you in no time.
We also can offer a discount on bulk buys. So if you are a manager or business owner and would like to supply staff with Notebooks for work we can help. Simple email Info@personalisednotebook.co.uk to find out more.
If you are looking for other back to work gifts, such as mugs or chargers then check out our sister website Add A Personal Touch!