2020 what a year! It brought us together whilst also keeping up apart! But its nearly time for a new year and a new start! So why not wave goodbye to 2020 and say hello to a brand new year with our new Personalised 2021 Notebooks!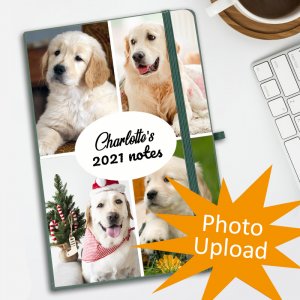 This new design allows you to add 4 of your own photos to the cover. So select your style and then use our personaliser to upload your 4 favourite images. Our personaliser couldn't be easier as it allows you to view what your notebook will look like in real-time! This way you can pull out your notebook whenever your down and it is bound to put a smile on your face.
This new design is available on all of our notebook styles. So if you are looking for a bright and colourful book, check out our Mole Notebooks. Or if you want a book that will fit in your bags, out A6 notebooks are for you! Whichever you choose you are bound to love your new notebook! Why not match our Personalised 2021 Notebooks personalised with our Stardust Ballpens to create the perfect combination.
With our notebooks starting from only £6.99 including free delivery in 3-5 days our notebooks make the perfect gift. The personalisation aspect allows you to create a gift that you will treasure, whilst the quality of our notebooks allows them to be used time and time again making them extremely useful.
Remember if you are still looking for Christmas Gifts, then head to our sister website Add A Personal Touch. Here you will find a range of items that can be personalised and make the perfect gifts.