When looking for the perfect gift for a loved one, colleague or friend, we understand making a decision on what to get them can be difficult. Which is why a Personalised Notebook makes the perfect gift, as who doesn't need a notebook at some point! If you are looking for a gift then our Pre-set Notebook Designs are perfect for you!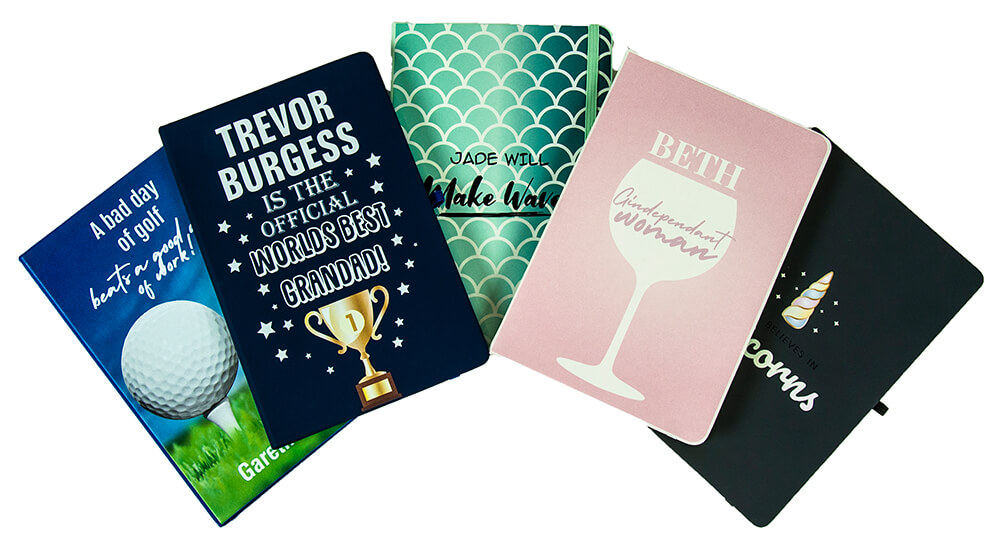 We currently have 12 standard designs for you to choose from. All of which can be printed on all of our notebooks including our A5 and A6 sizes. So whether you're looking for a notebook for your grandad, niece or friends, we have a design that you will love.
Our currently pre-set designs have proven to be very popular. So much so that we are planning to create even more so that we have a number of design options for any occasion!
How to Personalise one of our Pre-set Notebook Designs.
Choose whether you would like an A6 or A5 notebook.
If you would like an A5 notebook, then choose which style you like best.
Then when on the product page click 'view ready-made standard designs'.
Choose which standard design you like best.
You can then change the colour of your notebook using the 'change colour' tab.
If you click the 'add text' tab, you can then change the name that is featured on the design.
Once you are happy with your notebook, simply add it to your cart.
Personalising one of our Pre-set Notebook Designs really is that easy! But if you would like to add your very own image to one of our face masks, then you can do using our personaliser!
If you are looking for a gift for a tech lover then why not check out our sister site Personalised Powerbank! Where you can add your own images to one of our power banks!