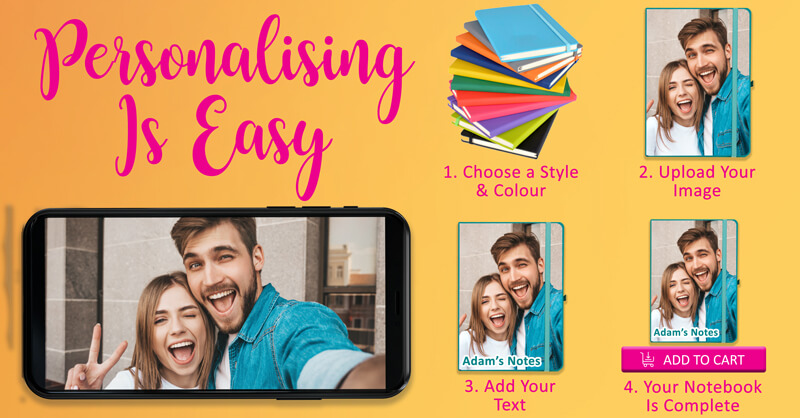 Design Your Own Notebook couldn't be easier here at Personalised Notebook. From uploading your image to adding your text, we've made the process quick and pain-free. Best of all, our personaliser works in real-time. Meaning you can ensure your notebook looks just the way you want to before you make a purchase.
Choose Your Style and Colour
Here at Personalised Notebook, we have three A5 notebooks to choose from and one in A6. These are all then available in different colours. Which allows you to choose a notebook that suits your needs and is the colour you desire.
Upload Your Image
Once you are set on a notebook it is then time to upload your image. This can be from your computer, mobile, social media or QR code. Once it has been uploaded you will then be able to see your image on your notebook. this allows you to move the image around to ensure it fits perfectly in the space.
Add Your Text
Personalising Your Notebook with text is also as easy! Simply type in the text you want to appear and change the size, font and colour to anything you desire. Once happy you can then drop your text around your notebook and place in the position you want.
Your Notebook Is Compete
Once you are completely happy with your notebook, then all you have to do is add it to your cart. You are then free to create another item, we would recommend one of our Personalised Pens or checkout. Did you know that we also offer free delivery on all of our notebooks, so there will bee no nasty surprises!
Design Your Own Notebook really is that simple. But don't just take our word for it, visit our notebook styles, designs yours today and see for yourself!