Are you looking for that perfect gift? One that will put a smile on someone's face, whilst also being useful? Or are you are looking for a new work notebook, one that is motivational, and you will love to use? Whichever it is, we have got you covered with our range of NEW Personalised A4 Notebooks.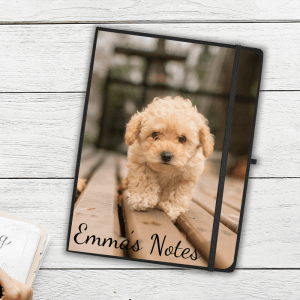 Our A4 Notebook
This notebook is available in a range of different colours! From Royal Blue to Red you can choose the perfect colour for your notebook!
Our online designer allows you to view what your notebook looks like before you purchase it. Simply upload your photo or image and add your text or choose one of our ready-made designs and you are done. Creating your own Personalised Notebook really is that simple. Or why not choose from one of our stylish pre-set designs? We have a wide range to choose from so you are bound to find one that is perfect. These set options can also be personalised with any text, so you don't have to miss out on creating the perfect gift.
Our Personalised A4 Notebooks are only £19.99, including free delivery. So what are you waiting for? Get the perfect gift, or a treat for yourself today!
All of the products that you will find on our website are delivered to you for free. So, there are no hidden costs and the price you see is the price you pay. We will also ensure that your products are delivered to you within 5 working days, meaning even if you have left purchasing a present at the last minute, our chargers and powerbanks will be with you in no time.
What good are Personalised A6 Notebooks without a pen? We are also able to personalise a collection of pens which make the perfect companion to our notebooks. Or if you are looking for an extra special notebook then why not check out our Wireless Charging Notebook on our sister website Add A Personal touch.