If you are looking for the perfect gift for a birthday present, Christmas gift or just a little something to say thank you, then look no further, we have what you are looking for! Our Personalised Notebooks make the perfect gift and here's why.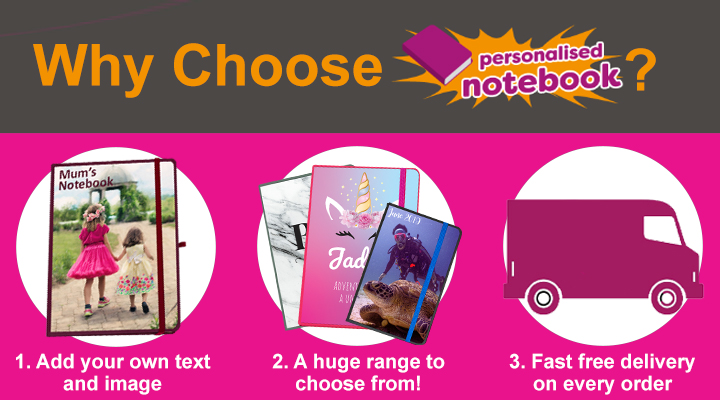 Personalisation
Personalising a notebook is as easy as any other product in our range! From our online designer, you can upload images from your desktop or social media. Then once you have done this, you can add any text that you desire.
So, upload their favourite image of their friends, family members or pets and you instantly have a unique present that they will love.
The Perfect Gift
Everyone uses a notebook at some point during the week. Whether you are a student who needs one for their notes, an office worker who needs to quickly jot down their ideas, or a builder who needs to remember measurements for a job, a notebook does the trick.
What good is a notebook without a pen? To create the perfect gift, we also have our range of personalised pens that match our notebooks and can be engraved with any name or message.
Free Delivery in 3 Working Days
As with all of the products on our website, our Notebooks come with have free delivery, so there are no hidden costs and the price you see is the price you pay.
We will also ensure that your products are delivered to you within 3 working days, meaning even if you have left purchasing a present to the last minute, our chargers and powerbanks will be with you in no time.
So, what are you waiting for? Start designing your Notebook today and create the perfect gift for a loved one or even a treat for yourself.