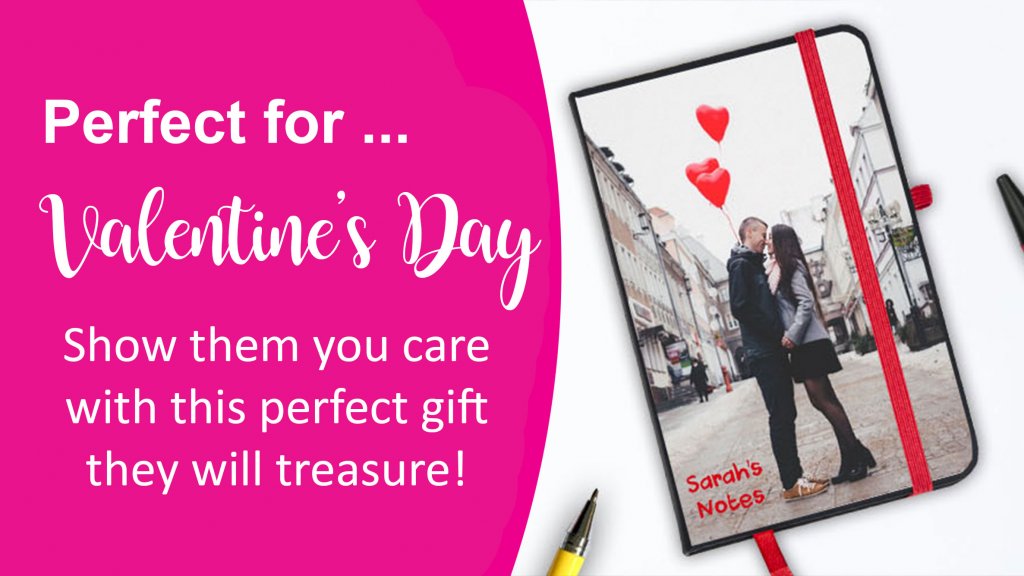 Valentine's Day Notebooks: This year, you could purchase the same old flowers and box of chocolates as you do every Valentine's Day. Or you could get your other half a present that will score you some major brownie points without breaking the bank.
"What Valentine's Day Gift will enable you to do this," we hear you ask? Well, a Personalised Notebook of course. As there are plenty of reasons why these notebooks they make the perfect gift.
Valentine's Day Notebooks
All of our notebooks that you will find on our website can be personalised with your very own image and text. Allowing you to create a notebook that carries a memory and generates a smile every time it is looked at.
Range of products
Here at Personalised Notebook, it isn't one style to fit all, we currently have 4 different designs for you to choose from. All of which differ in size, colour and style so that you can choose the notebook that perfectly fits their needs. This includes both A5 and A6 Notebooks, as well as a range of matching pens.
Practical Valentine's Day Notebooks
Whether you work in an office, spend your time at home or are always out and about, everybody always has a use for a notebook. As they are sure a practical present, they make the perfect present that you know will be used!
Free Express Delivery
No matter which product you choose, or your order total, you will receive free express delivery. Meaning that your delivery will be with you before Valentines' day so you can gift it on the day.
So, what are you waiting for? Start creating your very own Valentine's Day Notebooks today! Or if you are looking for a different gift head over to our sister site Add A Personal Touch!