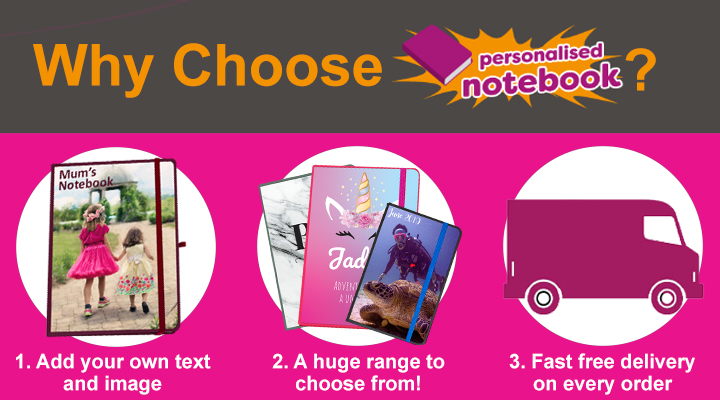 Here at Personalised Notebook, we believe that everyone needs a notebook at some point! Whether it is used as a travel diary, a place keep favourite recipes or to create a to-do list, we all need one at some point! Which is why, as well as making a perfect treat for your self, they also make a great gift. But, if you are going to purchase a new notebook, don't just choose any, choose one of our Personalised Notebooks!
Our notebooks are different to others you will find on the internet thanks to 4 key factors:
Personalise
Here at Personalised Notebook, not only can you personalise your own notebook to look exactly how you would like. You can also view exactly what your notebook would look like in real-time. This means no more submitting a name and image to a website and hoping that what arrives in the post will look as you want. But actually been able to position and add text to your design yourself so that it looks just right!
Pre-set Designs
As well as being able to completely design a notebook from scratch, you can also choose from one of our pre-set designs. So if your creative flair isn't as good as you would like, then we are bound to have a design you will love and can add a name of your choice to!
Pick Your Notebook
We don't believe in one notebook fits all, which is why we have a number of notebook colours and sizes to choose from! We have both A5 and A6 personalised notebooks, all of which are available in a number of colours!
Free Delivery
Unlike other personalised websites that you may find on the internet, here at Personalised Notebook there are no hidden costs! No matter which product you choose, we offer them all with free delivery! So the great price you see next to our products is the price you pay!
So what are you waiting for, start creating your own Personalised Notebooks today!
If you like what we offer here at Personalised Notebook, then don't forget about our sister websites Personalised Powerbank and Personalised Facemask.