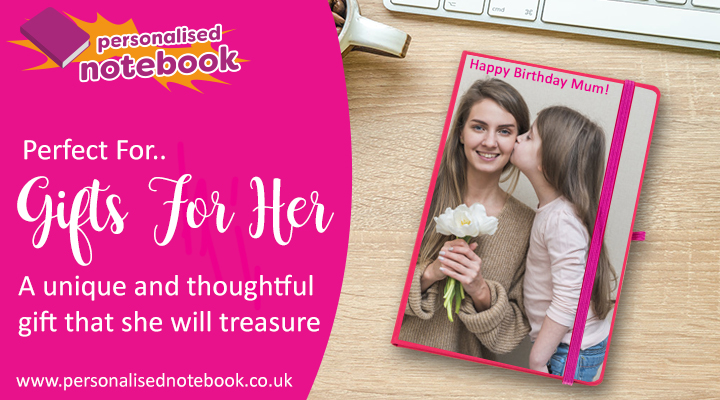 Personalised Notebooks for her: Are you looking for the perfect gift for your mum, friend or colleague? If they have everything then it can be hard to find a thoughtful and meaningful gift! But, here at Personalised Notebook, we have the perfect solution for you. As our girly Notebooks make the perfect gift that will be well received and treasured.
Create Your Own Personalised Notebooks For Her
Here at Personalised Notebook, we are different from other personalisation websites, as our Notebooks can be completely personalised! Once you have chosen your book colour and size, you can then upload your own images onto your selected notebook. This personaliser works in real-time, so you can see your design live and see any edits you make. You can then also add your own text or message to a notebook – allowing you to create a truly unique design!
Choose A Pre-Set Design
If you don't want to create your own notebook then don't worry. As we also have a range of girly pre-set notebook designs. Whether you are looking for a birthday gift for a mum or a graduation present for your daughter, we have a notebook design that you will love. Although these designs are pre-set you can still add a name or initials of your chose to the book. Allowing you to still create a personalised and thoughtful gift.
The Perfect Gift
With our notebooks starting from only £6.99 including free delivery in 3-5 days our notebooks make the perfect gift. The personalisation aspect allows you to create a gift that you will treasure, whilst the quality of our notebooks allows them to be used time and time again making them extremely useful.
If your friend, mum or colleague is a tech lover, then visit our sister website Personalised Powerbank. Here you will find a number of powerbanks that can be individually personalised with your own image or design!