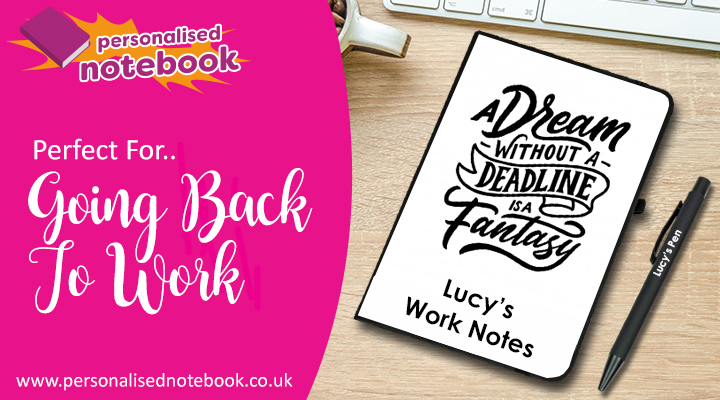 We know that you are probably anxious about your return to work and you are not alone. It has been reported that three-in-four Brits are feeling 'very nervous' about being back in a work environment. But what can you do to help protect yourself? It has been advised that those going back to work, school, or university, ensure that they have their own stationery to help stop the spread of germs.
However, if you are going back to work in an office setting, then we understand how hard it can be to keep a track of your pen or ensure that your notebook is not left lying around. And this is where Personalised Notebook can help!
All of our notebooks and pens can be personalised with your name. Ensuring that there is no mix up when it comes to stationary and that yourself and those around you are safe.
You can also add an image or picture to our notebooks. So why not add a past holiday snap to remind you of better times. Or an inspirational quote to get you through the day. No matter what you design, there is one thing that is for sure, no one will mistake your notebook and pen for theirs.
We also can offer a discount on bulk buys, so if you are a manager or business owner and would like to supply your staff with their own personalised stationery we can help. Simple email Info@personalisednotebook.co.uk to find out more.
If you have to use public transport to travel to work, then you have also been advised to wear a facemask on your journey. But who wants a boring mask when you can design one yourself? A mask that kills 99.9% of bacteria and helps you show your character even when you can't show your smile! If you are looking for a mask that does just that, then head over to our sister website Personalised Facemask. Here you can create your own mask or choose from one of our pre-set design.