When it comes to notebooks, you don't get much better than our Personalised Mole Notebook. It is the perfect product for those seeking coloured luxury stationery that they can personalise.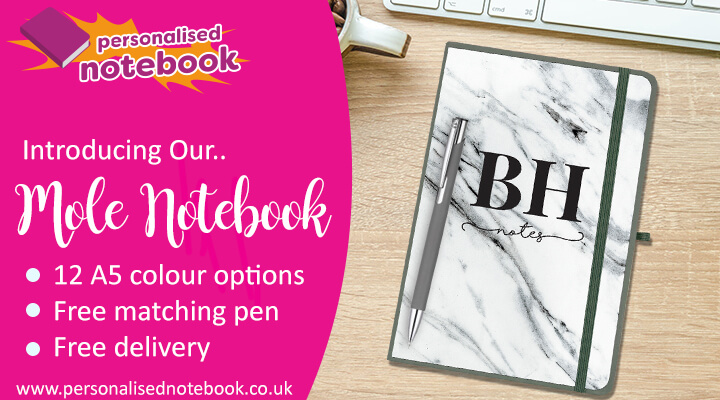 This notebook differs from our others. As it is A5 in size. but it is also available in 12 stylish colours. So if you are wanting an orange notebook as a gift for your mum. Or a blue notebook as a gift for a friend starting a new job – we have just the colour you are looking for!
If all this wasn't enough, our Mole Notebooks are also available with a free pen. Yes, that's right for only £10.99 you can receive a personalised notebook, a pen and free delivery. It's the perfect gift that won't break the bank!
Creating your new notebook couldn't be easier! Simply use our online designer to choose your notebook colour, add a picture or image and then any text. It even works in real-time! So you can even see what your notebook will look like before you add it to your basket!
Or why not choose from some of our Personalised Mole Notebook pre-set designs. these are great if you just don't know how to personalise your notebook. As the design and background are already there, all you have to do is add a name!
If you love our notebooks but are also looking for something extra as part of a gift then check out our sister website Add A Personal Touch. Where we also have a range of Personalised Door Mats and Personalised Golf Balls!